Star Cast: Amitabh Bachchan (Deepak Sehgal), Taapsee Pannu (Minal Arora), Kirti Kulhari (Falak), Angad Bedi (Rajveer), Andrea Tariang
Director: Aniruddha Roy Chowdhury
Starring Amitabh Bachchan as a grey-haired lawyer, 'Pink' is the story of three girls (Taapsee Pannu, Kirti Kulhari and Andrea Tariang) who are molested by Rajveer (Angad Bedi) but are instead charged of assault for attacking the molester.
Pink the movie is a serious, mindful cinema. A story about the double standards prevalent in society. The judgmental ones that decides a woman's character and morality. The different yardsticks society has in place for men and women. And how cruel and name calling it can get for women if she has to fight for her own dignity against a pig-headed, powerful, rich spoilt, well-connected brat.
The film travels right from the start with a group of guys trying to make Tapsee and her two roomies feel sorry for something that happened between them after a rock concert party. Soon, the police get involved,and the film slowly unravels the events of the night and the undercurrent of sensitivities of each character, through a classic courtroom drama. Perhaps the whole film can be summed up through a dialogue of Amitabh's "She said no your Honour, and no means no – be it your friend, or girlfriend or wife."
PINK raises many issues including mindset of the society that usually assumes that girls with short dresses and drinking habits are low on morals, especially if they enjoy a few drinks with men. The film also tries to give a very strong message that irrespective of whether a woman is a slave, wife or a prostitute, but if she says 'no', it means a NO. No man has any right to touch her, force himself upon her or outrage her modesty.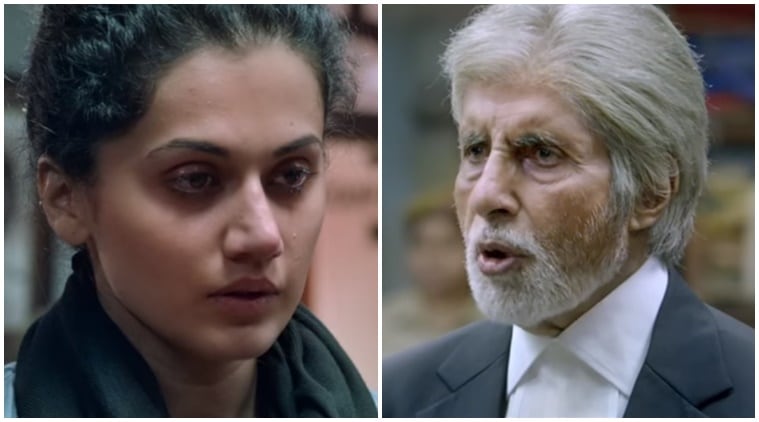 The character of Minal Arora  played by Taapsee Pannu simply comes with great efforts. She has perfectly emoted in every sequence she has played in the film especially the ones she has given in the courtrooms, which makes us to say that she has great potential to take her long away ahead. Kirti Kulhari playing the character called Falak Ali too has done a great job don't forget to catch the scene where she is seen breaking down in the courtroom. She with her performance has been very much natural and comfortable in her act. However, Andrea Taraing had a small role to play though she has done a great job in this. Last but not the least, Big B is indeed a powerhouse performer and has given one of the best performance ever while playing a lawyer with a bipolar ailment. And yes don't forget to catch Piyush Mishra; he is simply awesome playing the prosecution lawyer. In the bad boy role, Angad Bedi has simply nailed with his incredible and arrogant stare.
If you too wish for a brilliant cinema experience then watch Pink this weekend.It is an outstanding film in every aspect, be it writing, acting, script or performances.
Rating – 4/5